E D M_news
21/1/21 - 12/3/21
Exhibition:
Dancing with Tantalus
School of Art Gallery, University of Manitoba


Gabrielle L'Hirondelle Hil, Katie Lyle, and Ella Dawn McGeough
organized by Lillian O'Brien Davis
Building upon the previous exhibition,
Greener than Grass
at Susan Hobbs,
Dancing with Tantalus
considers the Greek myth of Tantalus, who stole ambrosia, nectar, and the gods' secrets of immortality for his people. As punishment for his crime, Tantalus was made to stand in a clear pool where water receded before he could drink, underneath trees laden with fruit that forever escaped his grasp. Touching leaves traces, often more lasting than originally imagined, but the absence of touch builds both anticipation and desire.
Due to Covid-19 restrictions, the gallery will likley remain closed to the public for the duration of the exhibition. As a result, several virtual events will animate the show...
---
22/10/20 - 21/11/20
Exhibition:
Greener than Grass
Susan Hobbs Gallery

Katie Lyle and Ella Dawn McGeough
organized by Lillian O'Brien Davis
Greener than Grass
engages qualities of contact—between people, surfaces, and objects—to examine haptic intimacy and explore the causal relationship between artworks and the many structures that make contact with them (physically, intellectually, emotionally, institutionally, historically). Curated through a series of collaborative conversations orbiting around desire and reverberations of touch in its various manifestations, the works in the exhibition are sites of accrual and records of presence.
How do you visualize the space in between where two things meet? Between Tantalus and his environment; between your skin and mine; between the world we inherit and the one we hope for? Imagined touch is erotic—anticipation, a fantasy of contact that never arrives, intimate and infinite nearness. How do we reckon with imagined touch versus real contact? Our direct implication in the world? Action creates relays between entities, echoes that reverberate into the space of in-between, traces remain. What would it look like to escape our barriers?
---


25/1/20 - 26/1/20

Exhibition & Writing & Edition:
I'm on Fire
Spoiler Zone, Berlin
A body in motion moves until it is determined by another body to rest; and a body at rest also remains at rest until it is determined to motion by another.
(Spinoza) Certain objects take their rest in very peculiar positions. They cleave, they clutch, they cohere, they embrace whatever's nearby—a small table, the wall, a set of windows, cold tile floors, various apparatuses for their own design—anything to lighten the load. Theirs is not a perfect rest but a brief suspension of activity.
They can be seen hanging out, squatting, gathering in groups, biding their time, waiting for something to change. And, it's true. In a few days they will be moved along. Still, some memory of their occupation of this space will persist, like a weird dream, as .jpgs and new followers, a line on a page. While we could cry:
It was over before we knew it!
and
It sure didn't last very long!
or
Ugh, sorry we couldn't make it!
We could just as easily exclaim:
It could happen again, any time!
This choreography of things and their gestures may suggest a form of collective non-action. However, in this case, it's more like a group of moths to the flame, drawn indoors by the promise of warmth on a winter's night, humming
Woo ooh ooh,
Woo ooh ooh, Ooh ooh ooh, Woo ooh ooh, Woo ooh ooh…. Oh oh oh, I'm on fire.
Killing Time
, limited edition
collaboration with
Jessica Groome
double sided microfibre towel for moonbathing and sunbathing
recycled plastic water bottles
180x100 cm
email
to order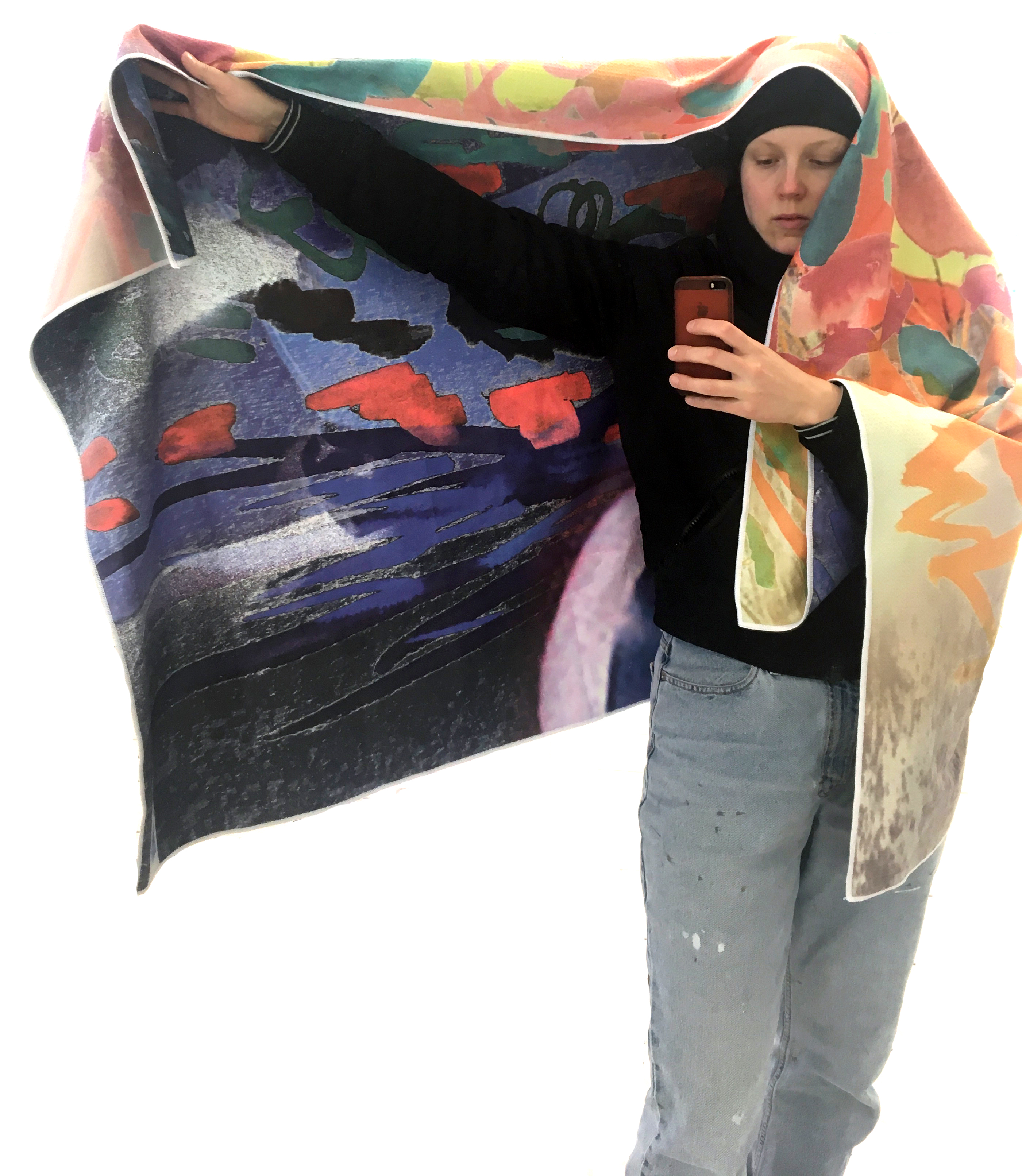 ---
20/6/19 - 25/1/20

Exhibition:
Object Lessons
Box Gallery, Express Newark, Rutgers University - Newark
Reception Thursday, September 12, 6:00 – 8:00 PM
Artists: Michelle Bui, Lizzy De Vita, Lucia Hierro, Ella Dawn McGeough, Sreshta Rit Premnath
Curated by Jacqueline Mabey
"When we talk about an object of desire, we are really talking about a cluster of promises we want someone or something to make to us and make possible for us."
- Lauren Berlant, "Cruel Optimism"
"Object Lessons" considers desire, the meaning we invest into things, and the pull they exert on us.
I remember it so clearly: eight years old, standing in a new friend's bedroom for the first time, picking up her knickknacks one by one, turning them around in my hands. Wanting, I suppose, to understand what they meant and what they said about her. I remember, too, the scolding that followed once my parents recognized my odd habit. Touching, they explained, is very different from looking. They forbade such tactile investigations which, of course, only made me want to do it more. We all want what is out of reach.
The artworks gathered together in
Object Lessons
speak to our desire for things, the meanings we invest into them, and how they mediate our relationship with the world. Michelle Bui's
Happy Like Doris Day
, 2017 features a startling arrangement of flowers and tripe, photographed according to the enticing formal conventions of commercial "packshot" photography, creating simultaneous feelings of desire and disgust. Lucia Hierro's oversize soft sculpture,
Black Bag Up A Six Floor Walk Up
, 2018 represents familiar consumer items, like Vicks VapoRub, Goya beans, and Presidente beer, on a large scale to point to the complex relationship between the intimacy of home, as represented by the items we use to feed and care for ourselves and larger economic order.
A memorial for the present is the future of the past
, 2013 by Ella Dawn McGeough considers the objectification of women through a series of references to art history and mythology: Antonio Canova's
Perseus with the Head of Medusa
, 1804-06, Félix González-Torres's candy piles, Ovid's recounting of Medusa's severed head turning seaweed into coral on the shore of the Red Sea. The materials used in the construction of luxury condo towers are employed in the creation of Sreshta Rit Premnath's
Slump
, 2016, suggesting the toll of hard labor and toxic materials on the precarious workers, and the contrast between their relative invisibility and the highly visible condo towers they build to house urban elites. Lizzy De Vita's
Slang
, 2017 was created during an improvised dance, comprised of verbal, physical, and material conversation between two lovers, responding in turn to De Vita's repeated interventions, as she created temporary prosthetics.
---
6/7/19 - 7/8/19

Exhibition:
Somebody
MKG127
Opening Saturday, July 6, 2:00 – 5:00 PM
MKG127 is pleased to present
Somebody
a group exhibition curated by Liza Eurich with work by Lorna Bauer, Deanna Bowen, Vanessa Brown, Kara Hamilton, Karen Kraven, Graham Macaulay, Ella Dawn McGeough and Geoffrey Pugen
Somebody
looks at work that engages with figuration through gestures that depict traces of activity, accessories, or fragmented representations of its form.
These renderings point to manifestations of self that are in continuous states of flux, constituted through processes of erasure, accumulation and revision. They are adjacent to the illustrative and intact, separate from any notion of fixity. Instead, their malleability foregrounds agency and favours the possibility of impermanence and fluidity.
Somebody
looks at work that engages with figuration through gestures that depict traces of activity, accessories, or fragmented representations of its form.
Though tactile and material in their approach, these works speak to the absence of their subject, and to the temporality of the constructed self. The figure is not replete; it is formlessness being continually reshaped, a process that is illuminated through the objects and imprints that persist. Vestiges of iterative selves have the potential to seed new thoughts and formations elsewhere. In this shifting of contexts, it is not the form itself that is of significance, but these moments of/in transformation.
Photo by Toni Hafkenscheid, courtesy of MKG127
---

6/19

Publication
:
Moire 5: Ken Lum
and space, Across time
Moire
5
follows a multi-year conversation with Ken Lum across subject formation and landscape; typography and language; family and labour; alterity and love; travel and pillows.
With texts, images, an interview, and the development of a unique "Ken Lum" font, we hope to offer a deeper understanding of Ken's challenging practice -- particularly in relation to his public projects.
---


15/4/19 - 24/6/19
Exhibition:
Turn Around / Bright Eyes
w/ Stefana Fratila and Kiko Sounds
AGYU Vitrines


AGYU Vitrines is an off-site component of this year's AGYU Curatorial Intensive Exhibition, On Pause,(May 16-26, 2019 Gales Gallery), curated by Katarina Veljovic.

Turn Around / Bright Eyes developed as a collaborative project in which multiple entities apprehend each other, rub off on each other, give each other power, meaning, and reality. The project opens April 16th during the beautiful exhibition Arnait Ikajurtigiit: Women helping each other at the Art Gallery of York University.


There was once a picnic on its surface, this pearl, this orange moon, this acoustic mirror, this exquisite corpse. Feeling spacey, bodies shifted position from
beings
to
becomings
and good vibrations, like wine, overflowed. As sound rounds a corner, they tried to move beyond the limitations of analysis and cross distances of difference. Until, in a sensational zone of resonant affinity, they floated—tethered—together.
Listen to the sound component,

developed by Stefana and Kiko, here.
---


25/2/19
Writing:
The Smoker
in Public58 -- Smoke: Figures, Genres, Forms
This beautiful, difficult, and vulnerable issue developed because a diverse group of artists and researchers met in Banff during the summer of 2017. With smoke burning our nostrils as forests flamed across western Canada and the US, we cared for one another deeply. While breathing in the present "emergency of anthropogenic climate change and its devastation of human and nonhuman life" we confronted this disaster within the
ongoing
"crisis of racial settler colonial capitalist extraction." If you have academic library access, the full publication can be found
here
. If not, email me and we can sort something out.
---
26/1/19
Writing:
The Shortsighted Can't Love Mountains, a text for Laura Findlay
Tuff, Arsenal Toronto
---
12/1/19 - 1/2/19
Exhibition:
NEXT|WAVE
Varley Art Gallery, Markham
Launching this winter, the Varley Art Gallery of Markham will partner with the Visual Arts Department of York University to present an annual exhibition of works by second year MFA and PhD students.
I presented a new series of drawings on calcium carbonate paper (terraskin) that form a third arm to my
Memorial for the Present is the Future of the Past
body of work.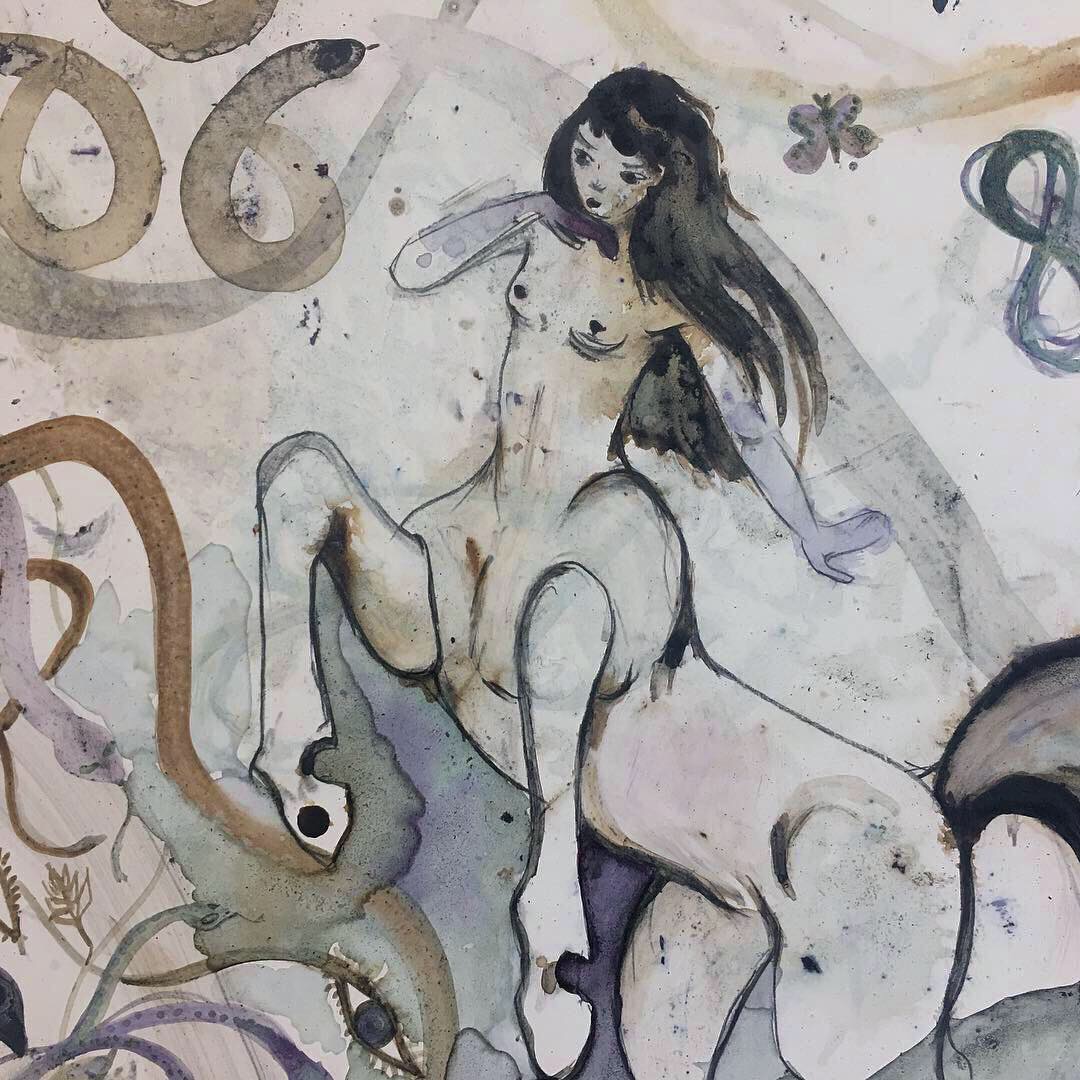 ---
1/19 - 2/19
Exhibition:
Tools 'n' Shit (Round One)
Goodwater Gallery, Toronto
Participating Artists:

Andrew Buszchak
Brennan Kelly
Nestor Kruger
Euan Macdonald
Jackie McAllister
Ella Dawn McGeough
Andrew Reyes
Sally Spath
goodwatercorktown
10 bright street
toronto ontario canada
m5a 3h4
647 406 5052

email
by appointment
---
15/11/18 - 12/12/18
Exhibition:
Exercises in Compassionate Mind Training
Kikospace, Toronto
"23"
Digital video with iPad, quartz, paracord, and wild grape. 23 minute loop.
Lojong (mind-training) is a series of 59 slogans that give specific guidelines on how to approach meditation and awaken compassion in daily life. Developed over a 300 year period between 900 and 1200 CE as part of the Mahayana school of Buddhism, Atisha, a Bengali meditation master is regarded as the originator of the practice.
Kiko asked us to choose one slogan to work with over the course of two months. I chose number
23: Always abide by the three basic principles.
While there are many translations and interpretations for this slogan, the three principles are often described as [1] Dedication to your practice [2] Refraining from outrageous conduct [3] Developing patience. Accompanying the exhibition, each artist was asked to work with Kiko to facilitate an event that dug further into the slogan's meaning and the ways in which it affected our practice. For my event, I chose to continue working with themes and activities first developed with Daniella Sanadar for our
Tools for Touching
workshop at Critical Distance in 2017 coupled with thoughts on permeability, care-giving, and endurance.
---
20/9/17
Writing:
on JESSICA GROOME
SOFT GLOVE, Erin Stump Projects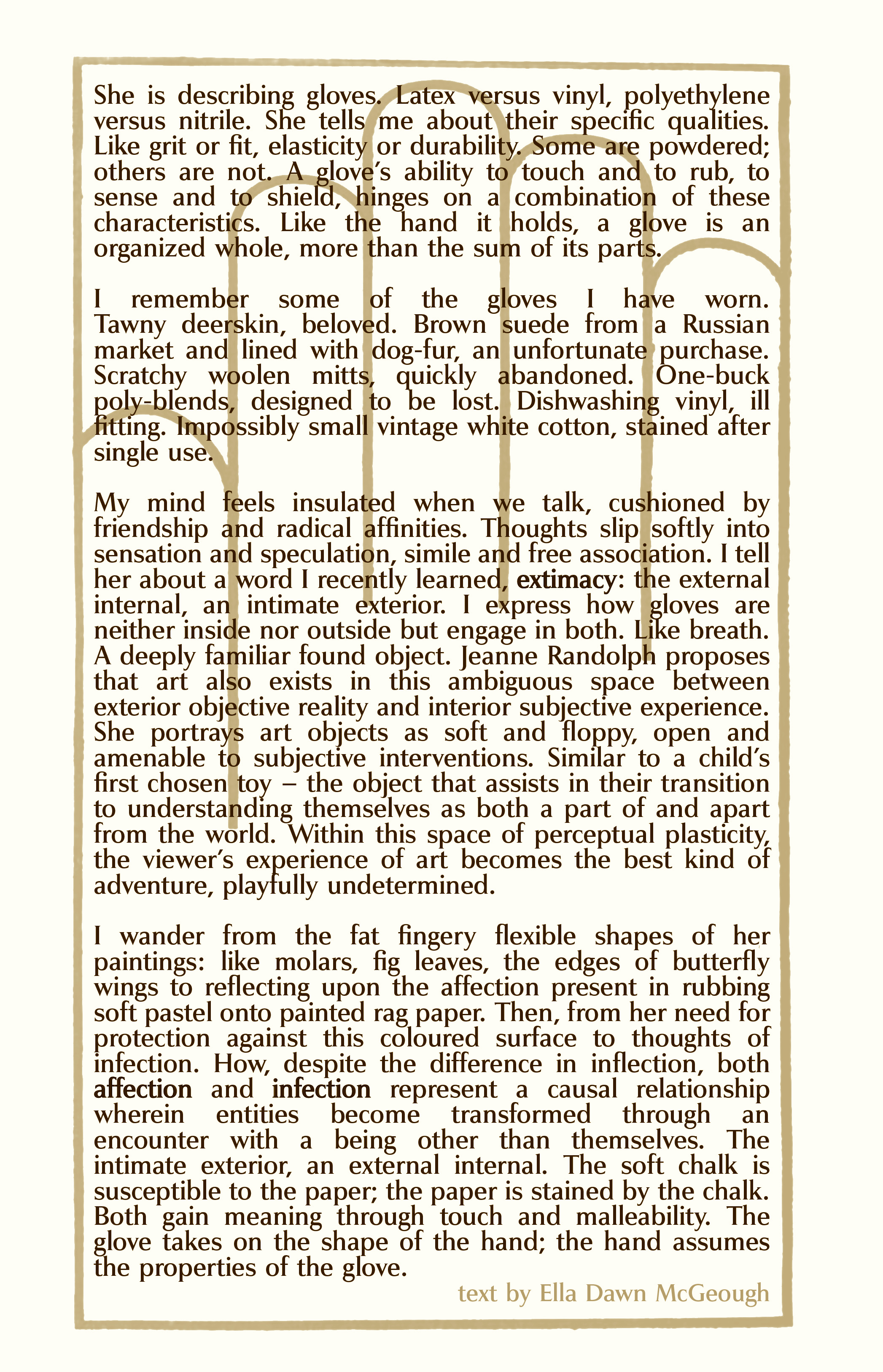 ---
15/9/17
Writing:
on KATHLEEN RITTER
In Broad Daylight, Visiting Artist Exhibition at Open Studio
The Pickpocket & The Sloth
[i]
The Pickpocket is a butterfly.
[ii]
The Sloth is a screen.
[iii]
The Pickpocket trades in razzle-dazzle.
The Sloth shifts shape and changes colour.
The Pickpocket can turntwo into three and three into two.
The Sloth develops states of interdependence.
The Pickpocket shows up in spit-shined shoes and rolled up sleeves.
The Sloth wears a cloak of moth-eaten rags.
The Pickpocket exposes itself to a state of constant spectacle, a name splashing across headlines.
The Sloth is embedded in a thicket of covert operations, waiting.
The Pickpocket performs pirouettes.
The Sloth moves with deliberate restraint.
The Pickpocket cuts itself up into separate entities.
The Sloth accumulates methods of disguise and suppression.
The Pickpocket is deceptively visible.
The Sloth is bafflingly ambiguous.
The Pickpocket is an artist.
The Sloth is a camoufleur.
[iv]
---
[i]
The semiotics of visibility evolve as a dance between perception and deception. While this negotiation is enacted across numerous conditions and species, each occasion relies on a process of encounter wherein the aim of both entities is endurance – the power to persist. In this spectrum of activity, the pickpocket and the sloth provide useful archetypes to understand the self-perpetuating co-evolution between surveillance technology and obfuscation.
[ii]
The pickpocket is a creature that relies on tricks of the eye and slights of hand. It uses powers of fascination, diversion, and disruption to detract from areas of weakness and vulnerability. When its body seems to breakup into apparently unconnected objects, its goal is confusion not concealment. As such, it becomes difficult to determine the edges of its subjectivity or the limits of its control. Try to focus on the flashing scales of an iridescent boa constrictor. Recall early twentieth-century attempts to confound long-range missiles with zebra stripes. Consider the dissimulating consequences of a politician's blatant and excessive lies. Conspicuously, it hides in plain sight and is thus highly adapted to a variety of environments.
[iii]
In contrast, the sloth's concerns are endemic. Its survival is conditional and subject to its surroundings. Utilizing methods of crypsis such as resemblance, withdrawal, countershading, and post-production, it virtually obliterates its own presence. Its acts are intensely relational: Rock ptarmigans' seasonal plumage; a Polish sniper in a ghillie suit made of straw; developments in pixelated camouflage against a world increasingly covered in a fine layer of digital snow. Pay attention to IP addresses, 4chan, and reddit. Like money, it is made visible in terms of aftereffect.
[iv]
This short text was developed in response to Kathleen Ritter's ongoing research into disruptive camouflage patterns used on naval battleships during World War I and the labour of the camoufleurs that painted them. In particular, it is informed by the work of two men named Thayer, father and son, artist and accomplice, Abbott and Gerald. Their groundbreaking 1909 text,
Concealing Coloration in the Animal Kingdom
, outlined various protective strategies found in nature. Notably, they were first to describe the use value of dazzle or high-contrast patterning, particularly by birds and butterflies. With the advent of war, they expanded their research across species to describe potential military applications for their findings. For example, they petitioned the British Navy to paint their fleet white to blend into the North Atlantic's overcast skies. And while their contemporaries ridiculed their work for its supposed wild universalism (imagine the pink plumage of a flamingo veiled against the setting sun as evolutionary tactic), it has been increasingly corroborated by the scientific, military, and fashion worlds (reflect upon the ubiquity of khaki).
Further reading
1. "CADPAT."
Wikipedia
. Wikimedia Foundation, 30 June 2017. 2. Behrens, Roy R. "Abbott H. Thayer's Vanishing Ducks Surveillance, Art, and Camouflage."
22 / Surveillance Summer 14
. MAS CONTEXT.
3. Cott, Hugh B.
Adaptive Coloration in Animals
. London: Methuen, 1940. 4. Cuthill, Innes C., Martin Stevens, Jenna Sheppard, Tracey Maddocks, C. Alejandro Párraga, and Tom S. Troscianko. "Disruptive Coloration and Background Pattern Matching."
Nature
434.7029 (2005): 72-74. 5. Stevens, M., and S. Merilaita. "Defining Disruptive Coloration and Distinguishing Its Functions."
Philosophical Transactions of the Royal Society B: Biological Sciences
364.1516 (2009): 481-88. 6. Suutari, Milla, Markus Majaneva, David P. Fewer, Bryson Voirin, Annette Aiello, Thomas Friedl, Adriano G. Chiarello, and Jaanika Blomster. "Molecular Evidence for a Diverse Green Algal Community Growing in the Hair of Sloths and a Specific Association with Trichophilus Welckeri (Chlorophyta, Ulvophyceae)."
BMC Evolutionary Biology
10.1 (2010): 86. 7. Thayer, Gerald H., and Abbott H. Thayer.
Concealing Coloration in the Animal Kingdom
. New York: Macmillan, 1909.
8. Victoria Hattam and Hito Steyerl: Photography and Political Agency?
Prod. The Photographic Universe II.Organized by Aperture Foundation and The New School. Web. <
http://www.artandeducation.net/videos/photography-and-political-agency-with-victoria-hattam-and-hito-steyerl/
>
---
26/9/17
Article:
Canadian Art,
Features
A Few Lessons on Making Art for the End of the World
by Leah Sandals
What might the world look like in 50 years and what can we do to shape it?" Artists and researchers gathered in Banff this summer to discuss...
Here are some of the lessons that emerged during a brief four-day tour through the constellations and complications of "Year 2067."
. . .
Inspiration can still come from overlooked personal sources—and link those to wider models for change
When I walk into artist
Ella Dawn McGeough
's Banff studio, I smell something sweet, sweet almost as honey.
I can't identify what the source of this smell is, exactly; it could be the grasses and flowers McGeough collected in her mother's birthplace in nearby Nordegg and piled in the corner, or the lawn clippings she has gathered from the Banff Centre's own landscaping crew, and that she scattered on the floor.
In the studio, McGeough has mixed this biomatter with flour and other materials—"undoing the discrete object" is one way that McGeough describes this practice and process. Ultimately, these works will only exist as JPEGs and GIFs on McGeough's laptop, while the rest will decay into landfill.
"I grew up in a very female-oriented society—almost neopagan," McGeough says. Her research of late has looked at "matriarchal societies and how they might be models for change."
One woman in particular—McGeough's mother—also affects this series of work. When she suddenly became sole head of the household, McGeough's mother started creating dough-art sculptures, shipping them around the globe and using the sales income to sustain her family.
Against one wall of McGough's studio is a 10-kilogram bag of flour, a material that no doubt permeated her childhood.
"I'm interested in how women congregate and orient themselves," McGeough says. Material and action, threaded through generations, might be one of these ways.
---
7/17
Residency:
Banff Research in Culture: Year 2067
This year's (2017) Banff Research in Culture program asks: what might the world look like in fifty years and what can we do to shape it? Moving beyond apocalyptic predictions, post-apocalyptic theories, and techno-utopianism, this program aims to shake up our sense of the political, social, and environmental. We urgently need to interrogate everything from the nation-state system—which assigns vast differences of wealth and opportunity to the good fortune of where one is born and who one is—to the faith in "progress" as a concept that allows us to easily imagine that this year will be more prosperous than the one before it. 2067 asks us to prod and plot the pathway from a present that needs work, to a future that works better.
---
Exhibition:
Kamias Triennial
Quezon City, Philippines




INSTALLATION IMAGES! IMAGES! IMAGES! IMAGES! by MM Yu

Kamias Triennial is a weeklong series of events taking place from June 17 to 23 in Quezon City, Philippines. Canadian, Filipino-Canadian and Filipino artists will be brought together as the first part of an international exchange. Canadian artists will travel to the Philippines for the Triennial to undertake residencies, produce new works or performances, and mount an exhibition among Filipino peers.

Sandwiched between the launch events for the Venice Biennial and Documenta 14, the 2nd Kamias Triennial is conscious of its domestic scale and scope, favouring deep individual involvements that can be informal and open-ended. This project considers the context of globalization as a now-established norm, yet one where uneven 'national' relationships often ascribe authority to discourses emerging from the West. The Kamias Triennial unfolds as an alternative to this, beginning in a domestic setting in Quezon City where Canadian artists are welcomed to the Philippines, laying the groundwork for a future project where Filipino artists will be invited to Canada.
Participating Artists:
Poklong Anading, Ringo Bunoan, Paul de Guzman, Laurie Kang, Nestor Kruger, Tiziana La Melia, Romeo Lee, Ella Dawn McGeough, Jet Melencio, Colin Miner, Norberto Roldan, Mark Salvatus, Adam Shiu-Yang Shaw, Gerry Tan, Christian Vistan, MM Yu, Jade Yumang & Sara Jiminez, and Zebulon Zang.
---
Exhibition:
THE READABLE CITY
curated by Bill Clarke
ANGELL GALLERY is pleased to present
THE READABLE CITY
, featuring installation, sculpture, film, video, collage and photography by Toronto- and Montreal-based artists Anna Eyler, Malka Greene, Eva Kolcze, Ella Dawn McGeough, Aude Moreau, Simone Rochon and Jessica Thalmann. Curated by associate director Bill Clarke, and taking its title from a phrase in French scholar Michel de Certeau's essay "Walking in the City", the exhibition runs from April 8 through 29, with an opening reception on Friday, April 7 from 7:00 to 9:00 p.m
---
Event:
>>⋛⋋( '◇')⋌⋚ PiGEON ⋛⋋( '◇')⋌⋚
Psycho-Geographic-ExcursiON w/ Friends of Ogden Park
The growth of dense urban areas poses a threat to migratory birds. One of the leading causes of bird death in North America is collisions with human-built structures. Bird collision detection offers a "canary in the coal mine" to signal troubling changes in our own everyday patterns of movement through the city. Harnessing the practice of psychogeography—which aims to produce new perspectives of urban environments by observing and moving through them playfully—PiGEON will guide participants through the Bloor St. Cultural Corridor on a psychogeographic birding excursion led by Toronto-based artist collective Friends of Ogden Park and FLAP Canada.
The excursion will be a fantastic flight into the way human stories intersect with the stories of other species, forming a multi-species worldview. As Donna Haraway proposes, "it matters what stories tell stories and what worlds world worlds."
The walk will be follow by a DIY paracord-string crafting demonstration as a preventive tool for bird-window collision at your home or workplace. PiGEON also includes a brown bag lunch and admission to Janet Macpherson: A Canadian Bestiary.
---
Comfortable clothing recommended; no advanced reading necessary.
---
10/3/17 - 9/4/17
Exhibition:
Precious Commodity
curated by Allison Cooley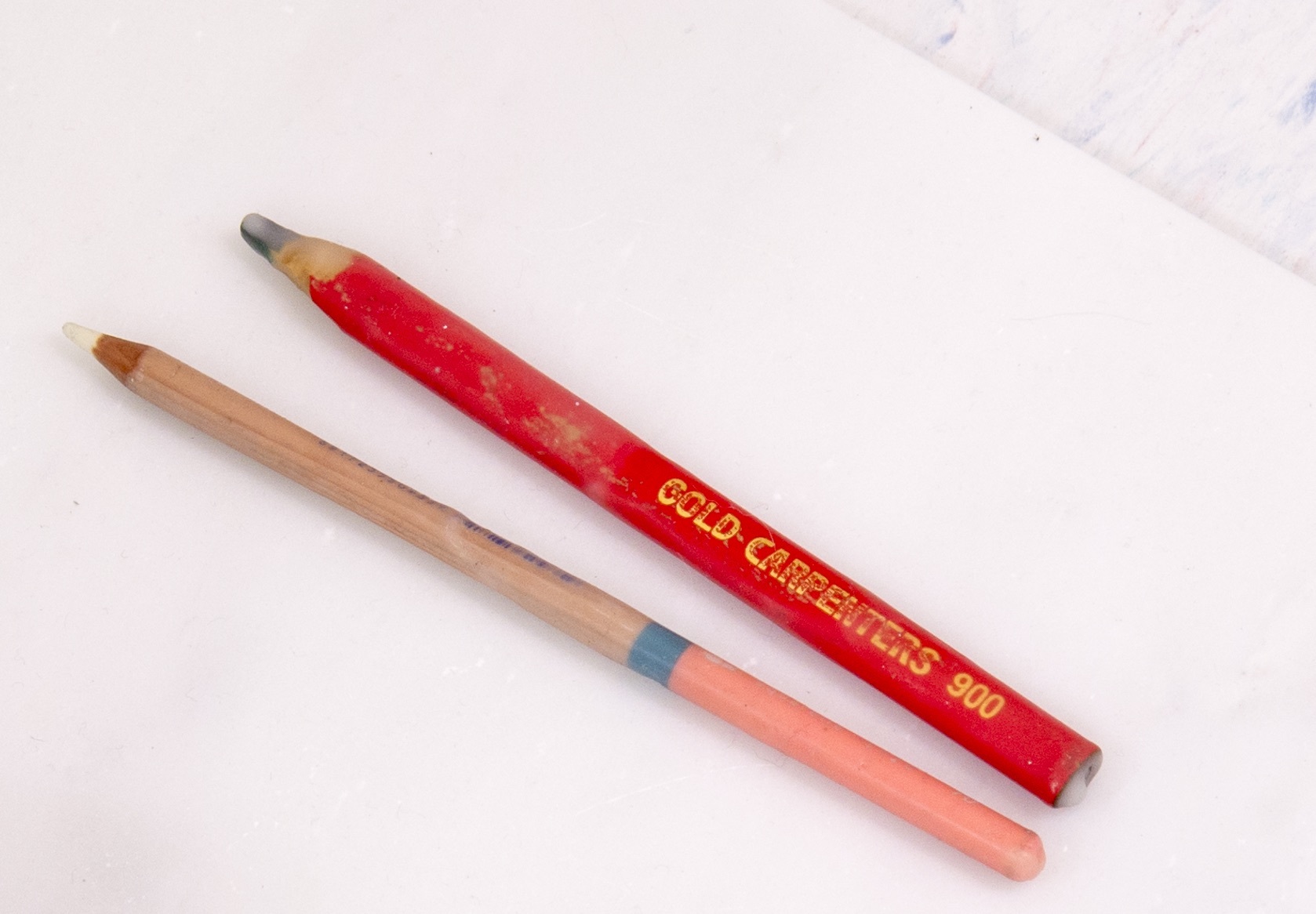 Critical Distance is pleased to present Precious Commodity, a group exhibition of recent 
works by Eunice Luk, Ella Dawn McGeough, Juan Ortiz-Apuy, and Biliana Velkova, curated by 
Alison Cooley.
Articulating a tension between objects and their ways of being—their forms, their significance, 
their social and economic circulation—
Precious Commodity
brings together artworks that 
examine the complicated sweetness of things. Unanchoring objects from their exchange 
within capitalism, the artists in the exhibition resignify them as vessels for fantasy, desire, 
and alternate possibility. Reflecting on the nature of a world populated by things with 
definitive practical uses and monetary values, each artist playfully contends with form, 
usurping existing representations in the service of building new meanings. Ultimately, 
the exhibition asks how we come to identify with the world of stuff—how we negotiate the 
fraught ethics of consumerism, how we arrive at and move beyond "sentimental value," and 
how we understand the lives of things often considered inanimate. Together, the artists in 

Precious Commodity
look to objects not as static, fixed entities, but as tools for thinking with.
---
Article:
Canadian Art, Features
10 Artists with Forward-Thinking Practices
by Rea McNamara
Ella Dawn McGeough was six years old when she met Frank Ogden: it was 1988, and the Vancouver-born artist's encounter with the Canadian futurist took place on his Coal Harbour–anchored houseboat, back when he had partnered with her older brother on a fax-delivered news service. Better known as Dr. Tomorrow, Ogden was among the first to foresee the Internet's hold on our daily lives, which were later packaged as 40 predictive laws.

"He was working at the crest of New Age mysticism, the dawn of the Internet, and neoliberal corporate culture—a wave that continues to crash with increasing intensity," explains McGeough. Alongside Conceptual artist Dustin Wilson, a fellow 2013 graduate from the University of Guelph's MFA program, McGeough formed, in 2014, Friends of Ogden Park. The collaborative project uses Ogden's laws as the basis for real and virtual art objects and performative game-centred activities.

In November 2016, OGDEN PARK: RETREAT! took place at Calgary's Intersite festival, skewering the so-called technological singularity with corporate-style motivational PowerPoint presentations and "geo-caching" relays across the festival's different venues. "We want the work we do through Friends of Ogden Park to offer a humanistic and materially driven counterweight to the instrumental pragmatism of Ogden's Laws."
---
Event:
─=≡ (´◔ ‿ゝ◔`)☞
OGDEN PARK: RETREAT
─=≡Σ( ( ( ͡◔ ͜ʖ ͡◔)☞
#intersiteyyc #friendsofogdenpark
---
2/10/16 - 31/10/16
Residency:
Flaggfabrikken Residency, Bergen Norway
selected by
curatron!
---
Curated Exhibition:
and, something like fire dancing
Amy Brener
Patrick Cruz
Barbara Kasten
Scott Lyall
Each year, for a brief duration, a parasitic plant emerges from a tree as tiny yellow fruit to act as both guest and host. Caterpillars arrive to relentlessly chew the plant, while a mass of ants stand as bodyguards to protect against would-be predators such as birds and larger insects. The ants are rewarded for their service with honeydew drummed from an exposed organ on the caterpillars' back. When the butterfly finally presents itself, its wings blaze with the mark of an ochre orb. An image of home. An image of process called colour―colour as matter.
Each entity is held to each other through the dynamics of infection. Each entity survives in sympathy.
"and, something like fire dancing" is composed of a relationship between four artists: Amy Brener, Patrick Cruz, Barbara Kasten, and Scott Lyall. Within the space of a group exhibition individual works are removed from the context of an artist's oeuvre. A brief relationship of inter-dependence becomes necessary. Held together by a viewer's gaze, each work valorizes the other (shapes the other, attributes a role to the other). Holding these disparate practices together is an investment in the stuff of transparency and lightness, whether with glass sheets employed by Kasten; thin glazed ink in Lyall's works; embedded, floating reflective elements within Brener's sculptures; or temporal quickness at play in Patrick Cruz's paintings, where individual works act as vectors for the next. With these layers, each artist asserts, and perhaps promotes, the relevance of materiality and technique. Through repetition, something light―like fire dancing, or colour―gains substance, like the weight of endurance.
---
Residency:
Trelex Residency
Tambopata Research Centre, Peru